New Features in BiteFX V2.4
On February 20, 2015 we released an upgrade to the BiteFX software. This installs as Update 38 for those who already have BiteFX installed. We also provided a "roll-up" build at the same time that includes all updates up to Update 38; this build became the version provided to new customers (the target for the download link in order confirmation emails) and the version available for download from the Members area of the website.
This article describes the features added in BiteFX V2.4.
You won't immediately notice anything different as the updates are more behind-the-scenes types of functionality, but we hope that you will enjoy the new features we've added. Here are the highlights:
Version Number
We're probably the only ones who thought this was an issue which needs to be explained but our V2 version numbering wasn't quite right. We started with 2.0.0 then went to 2.0.1, skipped 2.0.2 for internal reasons and then went to 2.0.3. Really we should have been incrementing that second digit so we decided to get on the right track with this upgrade and call it V2.4.
Information Sharing
You can tell BiteFX to share information such as the presentation sequences you create, notes that you edit or create for session reports and (new) any configurations you specify for the style of the report.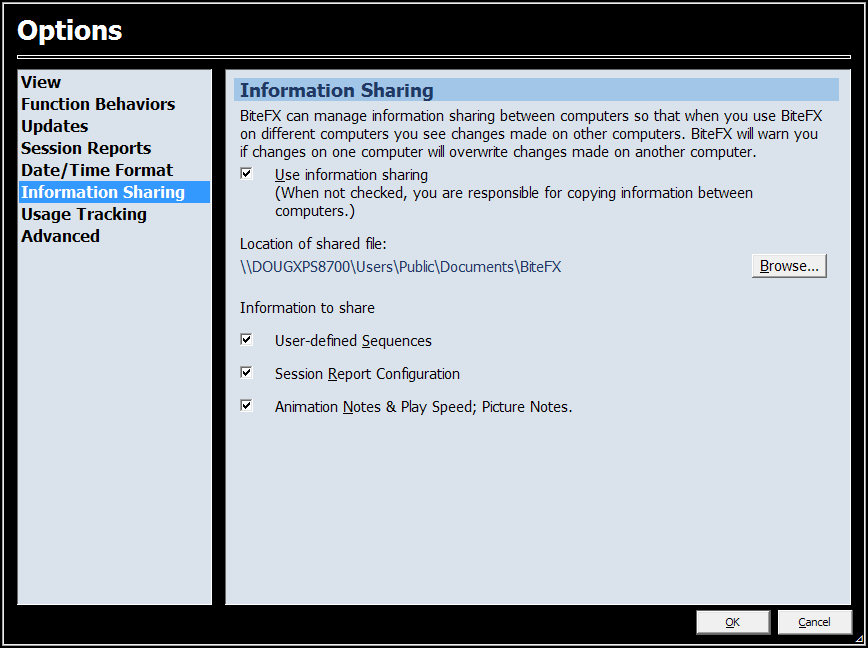 When this is set up, what you create or do in BiteFX on one computer will be picked up when you start BiteFX on other computers.
Configuring Session Reports
You can tailor numerous details of the session reports so that they reflect your preferences: select a logo to use, edit the report heading, edit any of the sub-headings, select the color used as background to the Item/Description headings, and whether or not to include the date and/or time.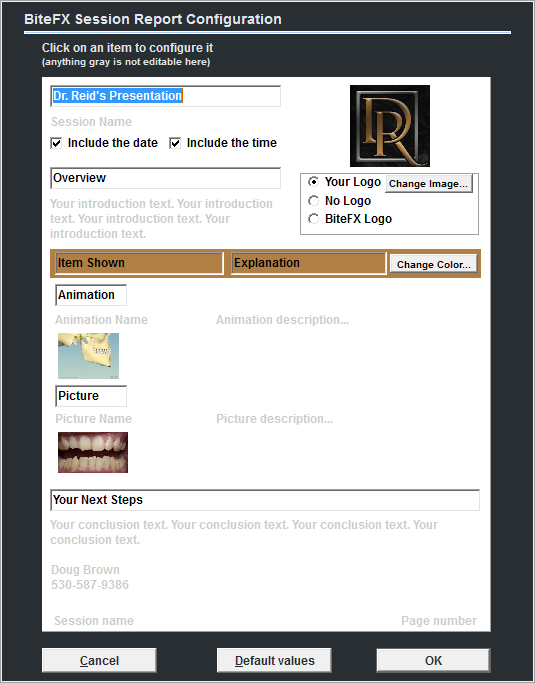 Configuring Date and Time Formats
You can configure the dates and times displayed or printed by BiteFX to conform to your local or personal preferences. The free format configuration allows you to set up almost any date/time format you want.
The snapshot below shows the sorts of things you can do to configure the date/time strings to your liking - use full or abbreviated texts for day and month, include punctuation characters, and order components to your preference.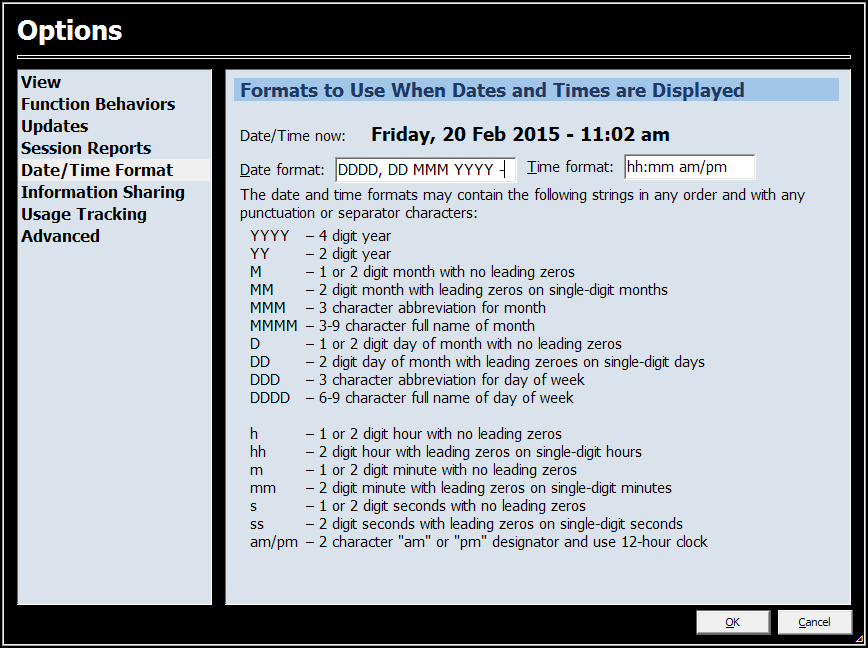 Edit Session Notes Window Stays Open
What this means is that if you are editing session notes for animations or pictures you can open the edit notes window, perhaps move it to the side of your BiteFX window, and then select other animations or pictures in BiteFX. The edit notes window will change to display the notes of the currently selected item. Changes are saved automatically as you move from item to item.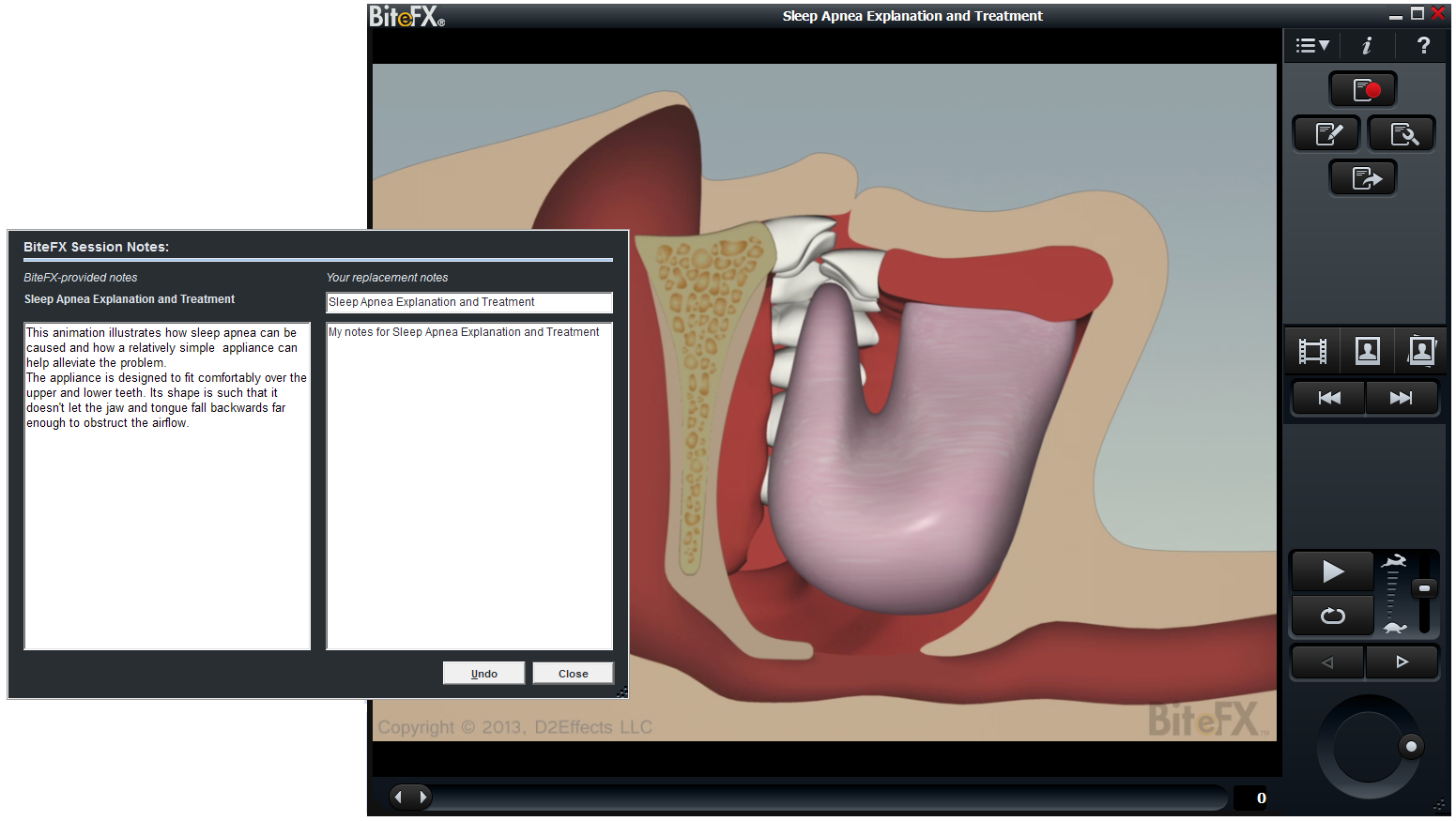 This will make it easier if you want to edit the notes of many items.
Mouse Scroll Wheel Supported
Wherever a scroll bar is displayed in the interface you can use the scroll wheel in your mouse (if it has one) to scroll the content.
Share Usage Information
You can help direct future BiteFX developments by letting us collect information on how you are using BiteFX (e.g. which animations and photos you use, which buttons you click). The information is anonymous. Over time we should be able to build up a picture of which elements are used the most or used the least and thus determine where our efforts will be best spent for future enhancements.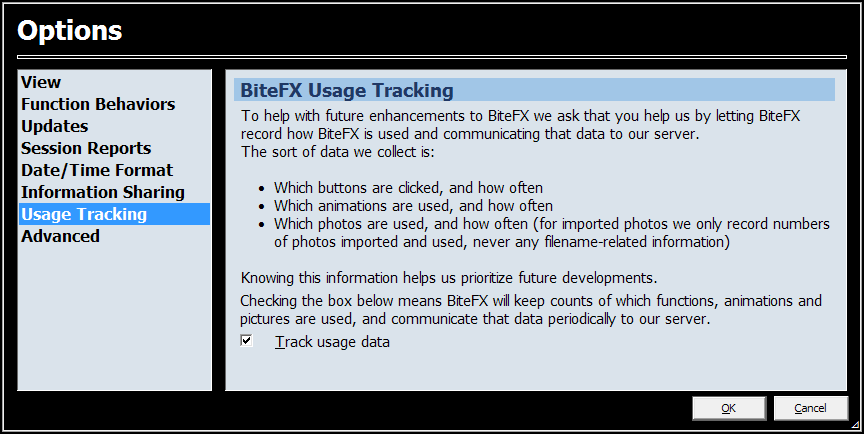 Options Menu Greatly Expanded and Improved
With quite a few more options you can select/configure, we've broken the options panel out from its cramped column and given it a whole window to itself. You've seen examples of the different Options window tabs in the snapshots above. Here's a snapshot of the Function Behaviors tab: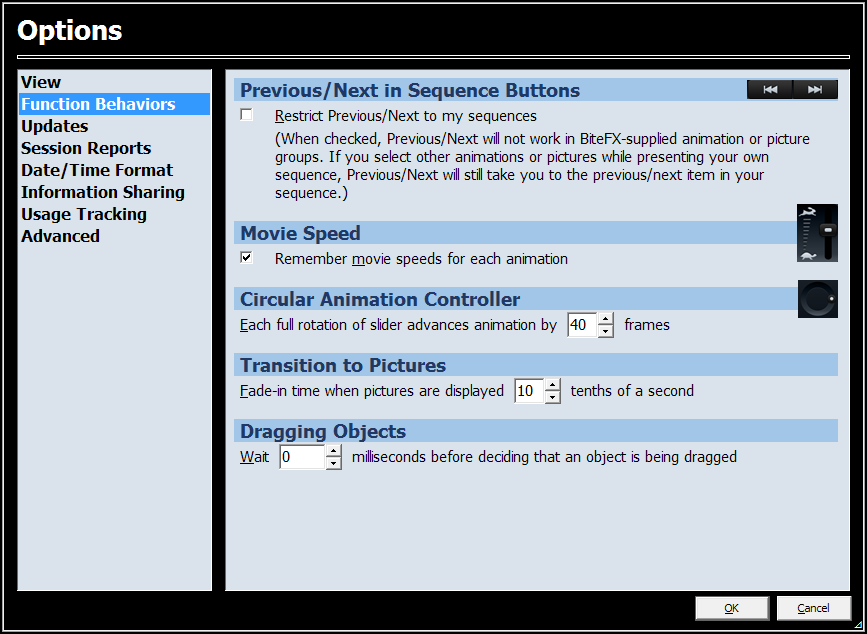 Each area of configuration is given its own tab and the option descriptions expanded - hopefully making it easier for you to understand what's on offer and choosing the behaviors that are best for you.
New "Roll-up" Build for the Installer
We have created a new installer that will include all the updates since the last "roll-up" build (version 2.0.3.38 issued in April 2014). You can obtain this installer if you want to install BiteFX on new Windows computers - so you'll have all the updates up to January 2015 included. (You won't need the installer for computers that already have BiteFX installed as you should have been receiving all the updates as and when they became available.)