New Animation:
Disc Off Lateral Pole with No Recapture

Next in the 3D Views of the TMJ series is:
"Disc Off Lateral Pole with No Recapture".
This animation shows a a disc with a lateral pole displacement. Whereas the previous animations showed the disc being recaptured, this one shows how the disc may wear thin so that there is no recapture.
When the area of pressure between condyle and fossa moves across the condyle, there isn't a thicker lip in the disc for the area of pressure to run into. Therefore, the lateral pole remains displaced.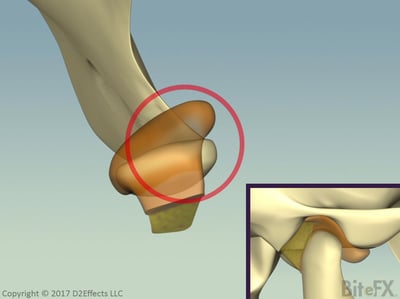 Displaced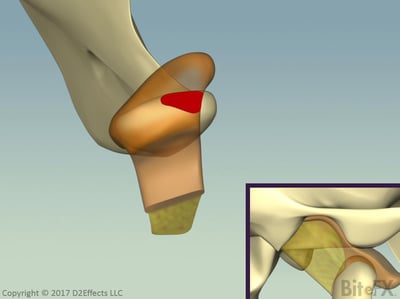 No Recapture
Combined with the recapture animations, this will help you explain to patients how they can progress from hearing a click to having no click.
Thanks again to Dr. Drew Cobb, Director of the Core Curriculum at The Dawson Academy, for all his input in creating this series of animations.
Look for this animation in Update 74 on Windows, Update 40 on the iPad.