This month's updates include a new series of presentation templates for hygienists.
Update 0064 for Windows - Presentation Templates for Hygienists
This update is only available on BiteFX for Windows as BiteFX on the iPad doesn't currently support presentation templates (that is under development and we hope can be released soon).
These templates are the results of thoughts shared at mastermind groups we've hosted here in Truckee (in the middle of California's ski country) the last couple of years.
It's seen that hygienists play a big part in identifying patients with particular needs, so wouldn't it be great if we boosted their ability to communicate what they observe by giving them a few, short, easy-to-use presentations? So that's what we have produced.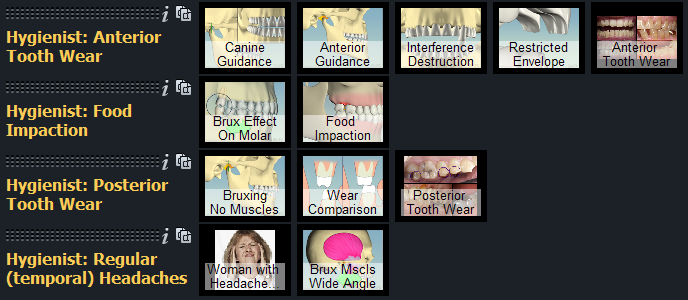 Update 0064 contains the following presentation templates:
Hygienist: Anterior Tooth Wear
Hygienist: Food Impaction
Hygienist: Posterior Tooth Wear
Hygienist: Regular (Temporal) Headaches
Each presentation template contains appropriate animations and pictures and comes with an info topic describing how to use and customize the presentation.
We've also added a new picture group to the picture album panel to support these presentation templates:

Thank you again to our faithful helpers and mastermind group members: Dr Alain Aubé, Dr Rick Rogers, Dr Alan Blondman and Dr Don Reid for their interest, drive and advice in assembling these presentations.
Update 0065 for Windows, Update 0033 for iPad - Fossa and Condyle Rotation
The second in the series of more detailed 3D views of the TMJ is "Fossa and Condyle Rotation".
This animation shows the fossa from a variety of angles and in four stages: first a cross-section of the bone of the fossa, then a lattice view of the shape of the fossa with the condyle lowered to permit a good view, then the same lattice view with the condyle in its normal, seated position, and finally the joint with a 3D disc and retrodiscal tissue inserted.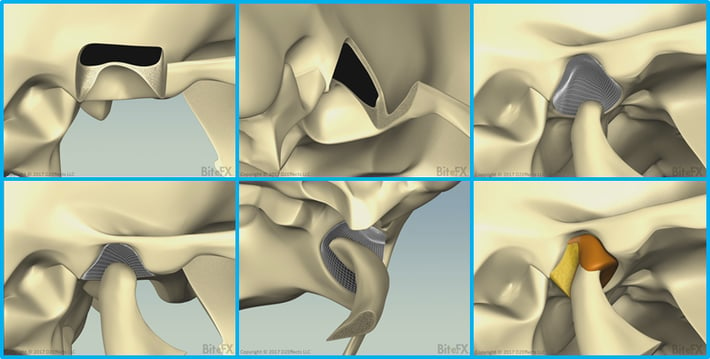 We are most grateful to Dr. Drew Cobb, Director of the Core Curriculum at The Dawson Academy, for his help in creating these animations. First we are thankful for his patience as it's taken over two years to put this set together, and secondly for his time as he's joined our animation team on several video conferences to review and refine what we've produced.
We would also like to acknowledge early feedback from Dr. Peter Dawson, Dr. Glenn Dupont, and Dr. John Cranham whose comments challenged us to better styling and clearer perspectives. Thank you for making time during a busy seminar!