May's updates include new animations, software enhancements and, for those who need it, a roll-up build.
Fremitus from Closure
Dr. Milos Boskovic strongly recommended that we add these two animations to our Fremitus series. "Fremitus is our friend" he told me - a statement I struggled to grasp at first. Dr. Boskovic's point is that Fremitus is a sign of occlusal disease that, once detected, you can share with your patients. They can feel their front teeth move and need little prompting to decide that they don't want the situation to worsen - who wants to lose their upper front teeth?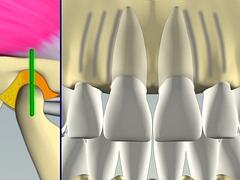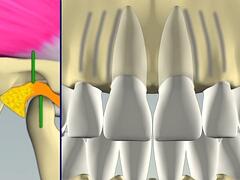 This month's animation updates make it easy for you to explain how the fremitus can originate and then move on to the other fremitus animations if you need to demonstrate how the situation can worsen.
Both show slight movements of the upper front teeth caused by premature contact on bringing the teeth together - one with the jaw in CR and one with the jaw out of CR.
Thank you Dr. Boskovic for your time in explaining what was required here!
A Software Update with New Sequence Functions
We hope that you are all making good use of the ability to create your own sequences - particularly in BiteFX V2 which makes the process so easy. There are several benefits from creating your own sequences:
You don't have to hunt for the next animation or photo you want to show your patient
You don't have to remember what you were going to show next
(Both the above help you save time, look better to your patients and maintain better focus on how your patients are responding to what you are showing them)
Makes sure that you have thoroughly thought through what you want to present
Easy personalization of your presentations by dropping in pictures you've taken of your patient
This month we have released BiteFX software version 2.0.3 with five new sequence handling functions:
Import a sequence
Export a sequence
Duplicate a sequence
Auto-play settings
Sequence auto-play
You'll see these functions on the bar above the sequence name:

We'll present how to use these in the webinars in the next couple of months - but feel free to start using them immediately.
Here are some of the things these functions will let you do:
Take a copy of a sequence created for one patient and quickly tailor it for another
Create presentation building blocks dealing with different concepts and create presentations for your patients by assembling the building blocks
Share your presentation sequences with other dentists - hopefully useful if you are teaching or mentoring other dentists and want to share with them how you explain occlusion to your patients
Download presentation sequences that we'll publish - which might give you ideas that can enhance your own presentations
Create a sequence that plays automatically in your reception area
Reordering Animations and a "Roll-up" Build
With this month's two new animations we've taken advantage of some new functionality in the software to reorder a few of the animation groups in the animation panel. In the past all the updates have been added to the end of the animation groups - not always the most logical place for them. Where that has been the case, we've moved the animations to more logical places.
For example, the two new splint animations added (Splint - Full with Traces, and Splint Removal) were separated from the other splint animations. This month's update puts all the splint animations together.
When we move any animations they'll be highlighted and the text "Order Changed" displayed in the sequence name area.
Also, it seemed about time that we produced a new version that contained all the previous updates - so anybody downloading to a new computer can select a version with all the updates included.
This new version will be available soon in the Members' Area.