Two Updates this Month!
First, a Software Update:
Nothing too complex in this update. We found a bug in our updating process that made it difficult to update pre-existing animations. Our developer, Raymond Obin, came up with a simple solution which is now wrapped up and released to you in Update 72.
Second, New Animation:
Disc Slip with Recapture – Front and Sides
Next in the 3D Views of the TMJ series is:
"Disc Slip with Recapture – Front and Sides".
This animation focuses on the frontal view of opening and closing when a displaced disc is recaptured. You can see how the jaw opens to the side of the displaced disc, then jerks to a more central position on recapture, reversing the motion on closing.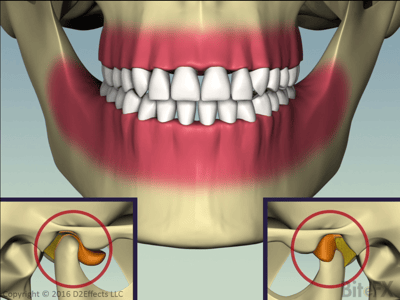 Displaced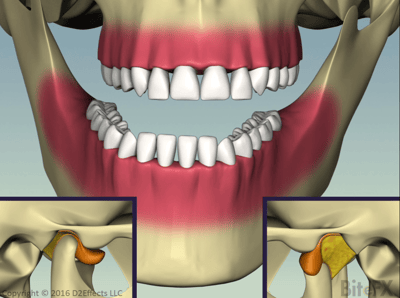 Asymmetric Bite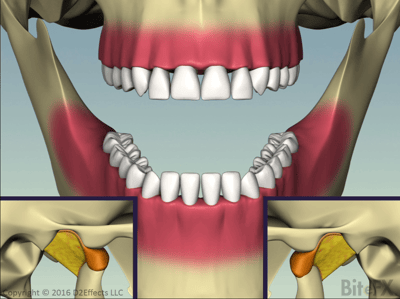 Recaptured
In its final section it shows the motion with no recapture, though we may move this to a separate animation at some point in the future.
Thanks again to Dr. Drew Cobb, Director of the Core Curriculum at The Dawson Academy, for all his input in creating this series of animations.
Improved Animations
The following animations have had small improvements or corrections added:
Equilibration
We've added pauses after the jaw has slid forward, before the mouth opens for the hand piece to come in.


Without the pause it was difficult for people to register the MIP contacts.
Slow Condyle Deterioration
Our slow condyle deterioration animation was showing the condyle wearing down while seated in a healthy disc – not a very likely occurrence.


We've fixed this so that the disc is displaced and perforated with the condyle rubbing bone-on-bone on the eminence.
No Canine Guidance
Dr. Fred Peck pointed out that the No Canine Guidance animation made it look like the abfraction had already occurred before the abfraction broke off. This was actually a lighting issue introduced when the animation was converted to HD, which we've now fixed.
Lower Splint
It was pointed out to us that our lower splint animation showed molars making contact with the splint with both inner and outer molar cusps, whereas most people only have the lower splint contacting the inner cusps. This is fixed in this update.
Gingival Recession
A number of people, including Don's hygienist, Julie, wondered why we weren't showing the gum receding in this animation. The gum was receding but people weren't noticing the recession in the frontal cross-section view. We've therefore added an inset window that shows the view from the side in which the gum recession is clear.
Look for this animation in Update 73 on Windows, Update 39 on the iPad.