Condylar Degeneration and Occlusal Drifting: Illustrations and Explanations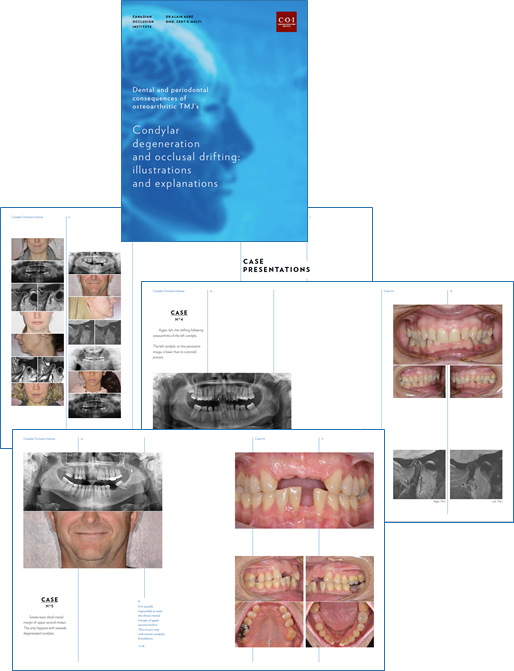 Dr. Alain Aubé, president of the Canadian Occlusion Institute, has created a helpful booklet that explains 16 cases showing typical signs and symptoms of osteoarthritic TMJs.

There are 12 adult cases, 3 young adolescent cases and 1 implants case.

Each case has pictures of the patients' face and teeth, Panorex, and joint MRIs, and is accompanied by explanations of what is happening with the patient.
The booklet concludes with a section on cortical bone reformation and description of what Dr. Aubé did to achieve that result.
Attractively laid out, this guide is an easy read for anyone interested in understanding more about TMJ issues and treatment - which should really be every dentist! As Dr. Aubé points out, a study by Nebbe in December 2000, found that 72.5% of females and 62% of males have displaced discs at the age of 15! That suggests that the majority of patients have some sort of TMJ issues which you are either observing and dealing with or ignoring.
You can take advantage of Dr. Aubé's experience and willingness to share by using this link to
download "Dental and Periodontal Consequences of Osteoarthritic TMJs".