This is a major upgrade bringing BiteFX on the iPad much closer to the functionality of BiteFX on Windows.
Main additions:
The Details
Picture Panel Added
The same picture panel provided in BiteFX V2 for Windows with close to 150 clinical photos is now part of BiteFX for the iPad.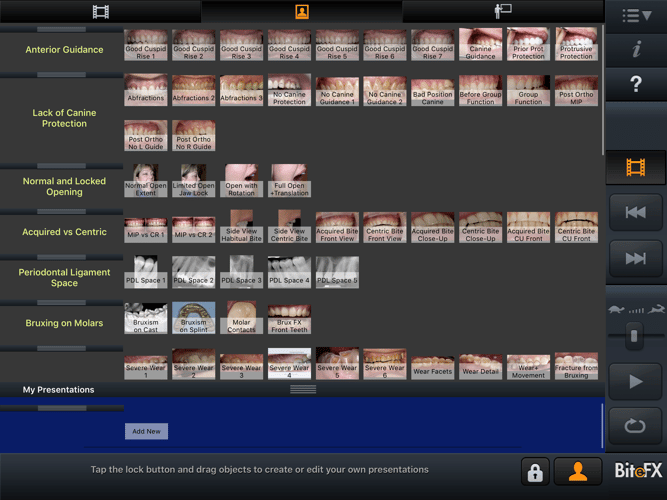 All these photos are available to include in your own presentations.
Because of the more limited space available on the iPad, the Animation, Picture and Presentation Template panels are separate tabs that you view by tapping the filmstrip icon in the right-hand function bar.
Import Your Own Photos
You can add your own photos to the Picture Panel by clicking on the "Add Picture" button (the icon with the picture frame and "+" symbol):

Pictures can be imported from your iPad Gallery, or from iCloud.
You import pictures into albums which you name - e.g. "Root canal 1" and "Before mockup" in the above snapshot.
If you no longer need a photo or album in BiteFX, you remove it with the "X" button. This only removes the picture from BiteFX. It does not delete the picture from its original source.
Combine Animations and Photos in Your Own Presentations
Create your own presentations by dragging and dropping items into rows in the "My Presentations" area. You enable the dragging by tapping on the padlock button to unlock the thumbnails.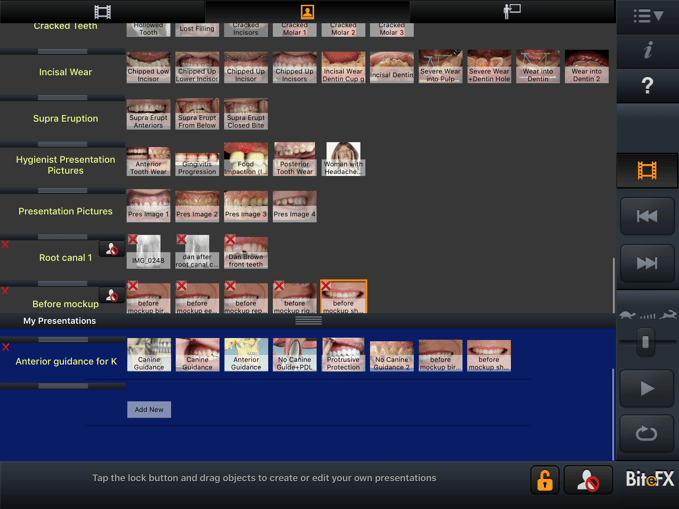 The above snapshot shows a presentation "Anterior guidance for K" that contains animations, some BiteFX-provided photos, and some imported photos. Notice that the padlock button is in its "unlocked" state indicating that items can be moved into, within, or out of, presentations.
As with earlier versions, the process of creating and customizing your own presentations is quick and intuitive. You simply drag the items (animations and pictures) you want to show to your patients into rows in the "My Presentations" area. It takes just a minute or two to assemble a presentation, or a few seconds if you want to customize an existing presentation for a patient by including their own photos.
When you're ready to present you select the first item in your presentation (e.g. "Canine Guidance" in the presentation "Anterior guidance for K" in the above snapshot). When you want to move to the next item you simply tap the "Next item" button

or swipe to the left.
By creating your own presentations you never have to search for animations or pictures when talking with your patients and can be sure you're remembering to communicate all the points you wanted to talk about.
Hide/Unhide Imported Photos
When you import photos for specific patients, you may not want other patients to see those photos although you may import photos for several different patients when you prepare their presentations in advance.
BiteFX therefore provides you with the ability to hide photos until you are ready to use them.
Simply click on the Hide Pictures button,

,for the album you want to hide, and all pictures in that album will be hidden.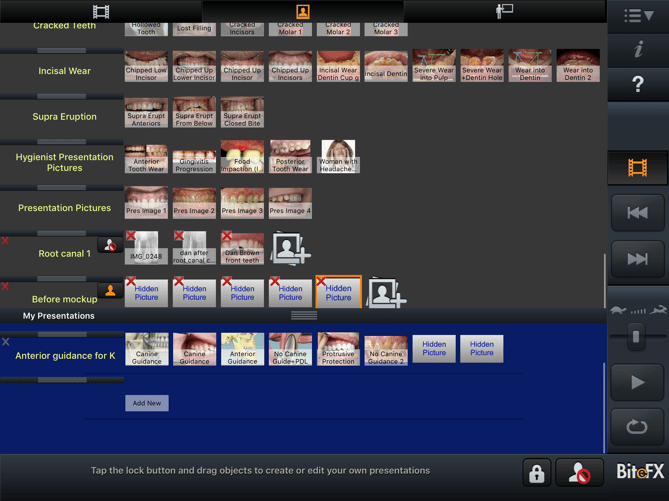 Snapshot shows pictures in the "Before mockup" album in "Hidden" state. Wherever the pictures are used - such as in the "Anterior guidance for K" presentation - both the picture and the picture name are hidden. Attempting to display a hidden picture results in "Hidden Picture" being displayed.
To reveal hidden pictures simply click on the "Unhide" button,

,for that album.
There is also a global Hide/Unhide button so you can hide and unhide all imported images.
Presentation Template Panel
To help you and your staff make a quick start with BiteFX, we provide a panel of preconfigured, ready-to-go presentations.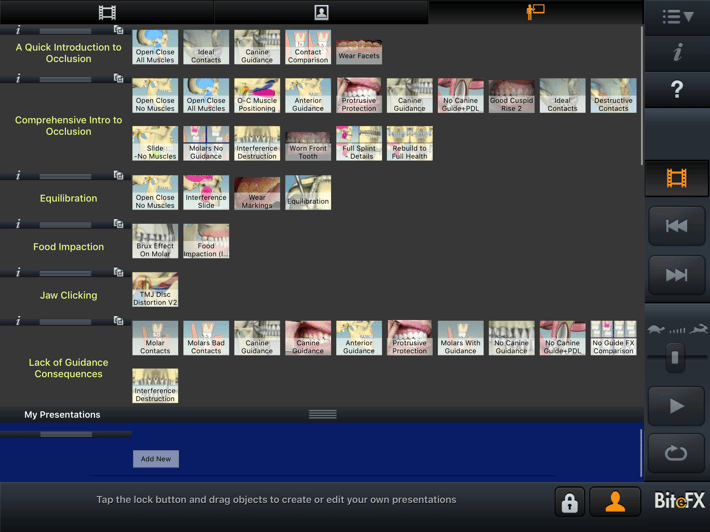 The presentations cover common topics and include templates provided to us by highly successful dentists who use BiteFX every day. There are also a number of presentations designed specifically for use by hygienists - short introductions to topics that can inform patients of issues that they should discuss with the dentist.
Every presentation template comes with an "info" topic that describes the purpose of the presentation, what the items in the presentation can be used to show, and suggestions for customizing the presentation.
When you want to customize one of the presentation templates, you tap on the "Duplicate Presentation" button,

, and a copy of the presentation is made in the "My Presentations" area.
Includes All Animations From Previous In-App Updates
Most months we issue new animations, pictures or presentation templates.
This upgrade includes all animations issued as updates for BiteFX in the past.
Animation and Picture Panel Content Matches Content in BiteFX for Windows V5.0
For BiteFX members who use BiteFX on both the iPad and Windows it will be good to know that the content in BiteFX for iPad V2.4 is the same as they'll find in their copies of BiteFX for Windows V3.0, or V2.5 with all the updates installed.
The main differences between the iPad and Windows versions are:
BiteFX for Windows has the "record session" feature that produces PDF reports.
BiteFX for Windows can share information across networked computers.
BiteFX for Windows has many options for configuring various behaviors.
Presentation Template Content Matches Most of the Content in BiteFX for Windows V5.0
For BiteFX members who use BiteFX on both the iPad and Windows, the presentation template content in BiteFX for iPad V3.0 is nearly the same as they'll find in their copies of BiteFX for Windows V5.0. It includes most of the templates included in the Dawson Starter, Detailed Presentations, Staff Training, and Hygiene presentation sets in the Windows version.